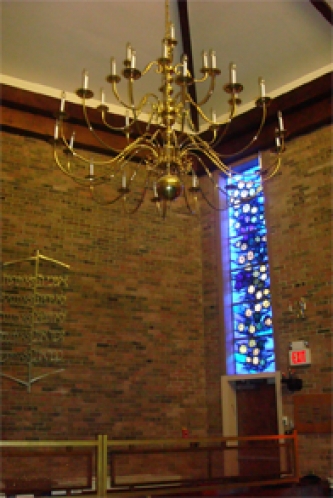 JEWISH LIFE AT THE HOME
Overseen by our Director of Spiritual Care and Rabbi, Daughters offers a full array of Jewish religious and cultural programming for those of all affiliations and backgrounds. There is a beautifully appointed on-site synagogue, in which prayer services take place.
*Please note that temporary adjustments to all services and programming have been made during to COVID.
Weekday Prayer Services
Weekday morning (Shacharit) and afternoon/evening (Mincha/Maariv) prayer services are held in the synagogue. Arrangements can be made for those reciting Kaddish.
Shabbat Prayer Services and Programming
A Shabbat Simcha program is held on Friday afternoons, which seeks to elevate the spiritual lives of our residents with Jewish music and stories. Intergenerational programs often take place on Friday afternoons, with local schools and camps performing and visiting the residents.
Daughters holds Egalitarian Shabbat services, called the Chavura program, on Friday evenings in the Sudler Atrium. In addition, Orthodox Shabbat evening and morning services are held in the synagogue. Shabbat concludes with Havdalah services on each unit.
Jewish Holidays
Daughters of Israel celebrates all Jewish holidays, with prayer services, as well as special activities and programming. For instance, Chanukah activities typically include latkes making, dreidel games, holiday crafts, musical performances, a Chanukah party, and an outdoor menorah lighting ceremony.
Additional Programming
The Director of Spiritual Care and Rabbi holds study groups and discussions on the units throughout the month and regularly makes pastoral rounds on the units and in the hospitals.
MEETING THE NEEDS OF OUR MULTI-FAITH COMMUNITY
Although Daughters is a home based in the Jewish tradition, we strive to accommodate and respect the spiritual needs of all our residents through various religious observances. Catholic Mass and Communion services are held, in addition to weekly Fellowship Meetings. Visits by members of the clergy to our residents are facilitated on a regular basis.