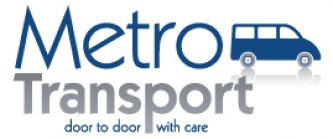 Non-Profit Community Transportation Program
Mission Statement
Our mission at Metro Transport is to provide quality transportation services for seniors and adults with special needs living within the Jewish Federation of Greater MetroWest area regardless of their ability to pay for these services.
Overview
Metro Transport is a non-profit community transportation program that provides rides to senior citizens and adults with special needs, regardless of their ability to pay. Established in September 2003 with seed funding from The Healthcare Foundation of New Jersey, Metro Transport has been providing medical and social/quality of life transportation to senior and adults with special needs throughout Essex, and parts of Morris and Union Counties in New Jersey. Metro Transport is a collaborative program between Daughters of Israel and the Jewish Community Foundation of Greater MetroWest NJ.
Currently Provide: Approximately 6,000 rides annually.
Subsidies: An income based subsidy program funded in part by The Healthcare Foundation of New Jersey and the Plafsky Family Endowment Fund is available to those who cannot afford to pay for all of part of their ride.
Cost of One Round Trip: $2.50 per town zone, each way.
Hours of Operation: Monday through Friday, 9 a.m.- 4 p.m.
Transportation Service Provided To:
Medical Appointments (routine appts., chemo/radiation, same day surgery)
The JCC and Affiliated Senior Centers
Nursing Homes and Hospital Visits
Reservations
New clients must first complete a Client Intake form, which can be downloaded here. Please print the form and mail back to Daughters of Israel.
To make a reservation, both new and existing clients must submit a Reservation Request Form. There are two ways to submit the reservation form:
Click here to submit form online
Provide the information over the phone by calling 973-325-1359
TITLE VI
NOTICE TO BENEFICIENCES
Daughters of Israel/MetroTransport operates its programs and services without regard to race, color or national origin in accordance with Title VI of the Civil Rights Acts of 1964, as amended. Any person who believes that she or he has been aggrieved by any unlawful discriminatory practice under Title VI may file a complaint in writing to: Daughters of Israel/Metro Transport. To file a complaint, or for more information on Daughters of Israel/Metro Transport obligations under Title VI write to: 1155 Pleasant Valley Way, West Orange, NJ 07052 or visit daughtersofisrael.org. Transportation services provided by this agency are in whole or part funded through federal funds received through NJ TRANSIT and as an individual you also have the right to file your complaint to both Daughters of Israel/Metro Transport as well as the Federal Transit Administration. Complaints may also be filed with the Federal Transit Administration in writing and may be addressed to: Title VI Program Coordinator, East Building, 5th Floor – TCR, U.S Department of Transportation, Federal Transit Administration, Office of Civil Rights, 1200 New Jersey Avenue, SE, Washington, DC 20590.
If information is needed in another language, contact 973-325-1359.
back to top