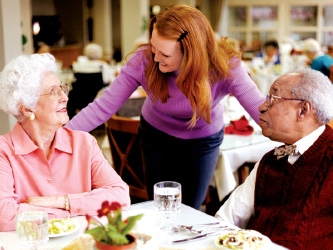 Creating an enjoyable dining experience for our residents is a priority. While offering a wide variety of tasty and nutritious menu choices, our dieticians are diligent about adhering to individual dietary restrictions, including allergies, and therapeutic diets.
KASHRUTH
Daughters of Israel adheres to kosher dietary laws and we ask residents and family members to respect this policy when bringing outside food into the facility.
Click here for a list of local kosher food establishments and specific guidelines.
MENUS
Menus are posted weekly and can be picked up in the Dietitian Office on Mondays. Residents and family members can discuss food preferences with their unit's dietitian to personalize their menu. The Food Committee, which meets monthly, provides a forum for residents to suggest menu items.
Click here to see a sample weekly menu.
TWO CENTS CAFÉ
For the convenience of our residents and guests, Two Cents Café, located at the intersection of Ben Gurion Boulevard and the Slobodien Pavilion corridor, is open Sundays from 10 a.m.-2 p.m., and Monday through Friday, from 8 a.m.-2 p.m. It is closed on Saturdays and Jewish holidays, including all eight days of Passover.
back to top